Oil-related foreign competition will raise packaging, labeling stakes for Guyanese manufacturers – expert USAID Farmer to Farmer Volunteer, Ohio State University Professor Melvin Pascall earlier this week told the Stabroek Business that the prospects for Guyana's agro-processing sector on the international market depend heavily on the sector raising its game insofar as the packaging and labeling of its products is concerned.
The Trinidad and Tobago-born Pascall who told Stabroek Business that his assignment in Guyana derives from a personal commitment which he had made to raising standards in the region says that attaining standards of labeling and packaging that will enable enhanced access to  international markets demands both a personal commitment and significant investment on the part of the local agro processing industry. And responding to a concern raised by this newspaper that the majority of small businesses in the agro-processing sector may not be able to bear the financial burden associated with high quality packaging and labeling, Professor Pascall told Stabroek Business that it might be well worth the while for local agro-processors to establish Cooperatives or other forms of business collectives that would allow for a pooling of resources to make "quality" labeling and packaging more affordable. Asserting that there is no way around confronting the costs associated with enhancing product value in order to become more competitive on the international market Dr. Pascall told Stabroek Business that there is no escaping the reality that those businesses that fail to reach the desired standard could 'go to the wall.'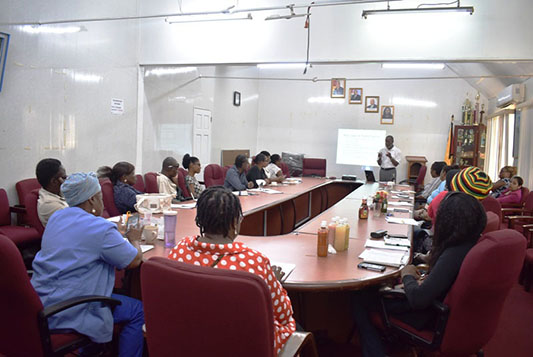 The USAID-funded Farmer-to-Farmer Programme provides technical assistance to agricultural producers, organizations, agribusinesses and universities in Latin America and the Caribbean. Customarily, Farmer-to-Farmer volunteers, all specialists in their particular fields, spend two to three weeks on specific technical assignments, working directly with counterparts in the region to address local needs. Volunteers may travel individually or in teams. 
Seizing the opportunity of Professor Pascall's presence, the local Farmer To Farmer outreach initiative seized the opportunity to initiate training and orientation programmes in a number of regions as well as meetings with officials of various agriculture-related agencies including the Guyana Marketing Corporation and the Guyana School of Agriculture. Additionally, Professor Pascall also conducted a session with local exporters interested in accessing the Canadian market.
During his interview with the Stabroek Business Professor Pascall unhesitatingly asserted his Guyanese credentials including his connection with Berbice as well as "a Guyanese grandmother."
Outside of his various training and sensitization assignments he also held discussions with agro processors, farmers and officials of specialized local institutions on a range of issues including packaging and labeling standards.
 Dr. Pascall disclosed that he has worked on assignments with the now highly regarded manufacturing sector in Jamaica to help raise packaging and labeling standards in order to help producers reach the demanding standards of the international market. 
Having lived in the United States since 1988 has worked with the Federal Government and has been in academia at the level of a University Professor for seventeen years. He has also been associated with training and advisory work with the public and private sectors and the University of the West Indies in Jamaica. On Wednesday he told Stabroek Business that he had come to Guyana as part of his wider commitment to serving the region.
Currently serving at Ohio State's College of Food, Agriculture and Environmental Sciences, Professor Pascall's areas of expertise include  food packaging, antimicrobial packaging, food contact surface sanitization, food safety, food regulations, areas which, variously, have provided challenges for the food sector in Guyana.
"One of the main functions of packaging is the protection of food, drugs and pharmaceutical products from biological, chemical and physical contamination. My 28 years of experience in food packaging will be an asset to this centre. In addition to this, my research in food contact surface sanitation also adds to the assets of the centre. This collaboration provides me with the opportunity to network with faculty members from other colleges and departments. It also allows my graduate students to gain experience in the use of equipment and analytical techniques that are not available in my home department. As a result of previous inter-college collaboration, one of my students received the 2009 Italian Packaging Association award. I was recently awarded a
CCTS-PHPID award for a seed proposal and look forward to working with this group", the Professor said.
During his exchange with the Stabroek Business, Professor Pascall pointed out that, going forward, local agro processors and other players in the manufacturing sector have to raise their game on account of likely competition from US firms seeking to increase market share in Guyana. Professor Pascall told Stabroek Business that the advent of oil and gas will open the door to more products from the United States, a development that will place the manufacturing sector under even greater pressure to raise its game if it is to hold on to its share of the market.